HOW TO START A BLOG: A STEP BY STEP BEGINNERS GUIDE
So you want to start a blog and earn an income from home? Good for you! Blogging is a GREAT option for brining in a side income and can eventually even lead to a full time income!
I am here to tell you it is totally possible. I actually just put together my first income report to show that making money with a brand new blog and a small audience is totally possible. I also talk about how I make money from my blog in this post: Make Money Blogging: Learn How I Turned My Blogging Hobby into a Profitable Side Hustle 
So, if you are serious about starting a profitable blog, you landed in just the right place, because I created a super easy to follow beginners guide for getting you started with a new blog in less than 30 minutes!
Starting a blog can be SUPER overwhelming, and you probably have a billion questions. Maybe you are wondering some things like:
What on earth will I write about?
What will I name my blog?
How do I actually start my blog? What is this Self-hosting thing I keep hearing about?
How do I make money from a blog?
Not to worry! I got you covered, I promise!
I created a super detailed step-by-step guide to starting a blog. We will cover everything from deciding on your blog topic, naming your blog, getting your website up and running, and also making it pretty (because that's the fun part!)
So, I basically broke it down into 8 easy to follow steps. Now, depending on a few things, you may need to jump ahead. (For example if you have your niche and blog name figured out, jump to step 3).
Okay, grab your notebook (you may want to take some notes) and let's get started!
*Please note this post contains affiliate links. For more information about affiliate links, see my disclosure page.
STEP ONE | FIGURING OUT YOUR PASSION & NICHE
What are you passionate about? What are your strengths? What skills do you have? How can you turn your passion and skills into a profitable Blog?
These are the things that you need to think about when deciding on your blogs topic, or niche. Most successful blogs are written with a clear audience in mind. Before we dive into getting your blog setup, it is important to take some time getting clear on what you're going to write about (your blog's "niche") and who you'll be writing for (your "target audience" or "ideal reader").
Now, if you are planning to blog for profit, even down the road, there are a few things that you want to consider when deciding on your niche. These are basically the criteria for having a profitable niche:
It is specific
It is a topic you are passionate about and that you will enjoy writing about
It is something you are experienced or skillful in
It solves a problem for your audience
If you can check all of those boxes off when considering a niche, you are on the right track!
Related Reading: 9 Highly Profitable Blog Niches + How to Make Money From Them
STEP TWO | DECIDE YOUR BLOGS NAME
Once you know what you are going to blog about, you have to decide on your blogs name! The key is to choose something that is easy to spell and easy to remember.
Don't stress too much about getting the perfect name for your blog – what you blog about is much more important than the name you choose. I know many beginning bloggers who get stuck on this step forever. Please don't do that! The more time you waste thinking of a name, the more time your taking away from actually building your blog and your traffic. Choose an easy to spell and generic blog name and start blogging! My recommendation is to have a name that is easy to remember, and relevant to your blog topic. I also recommend it not being too long.
Before you move to the next step, grab a pen & paper and brainstorm a few name ideas.
Something else I will mention is that you will also want the name of your blog to be the same of very similar on all your Social Media Platforms that you will eventually want to set up.
also, ideally you want your domain name to end in a .com. This is the most popular suffix for domain names, and it's the the default people will search for when trying to find a website. So try to get the .com rather than a .co, .org, etc.
Okay, so if you have a few ideas for a name there is actually a FREE tool you I recommend you use to see if your desired blog name is available as a .com domain name AND as a the username on all the different social media platforms you plan to use! It's called namechk.com, and it is super easy to use.
1. Click here to head to namechk.com
2. In the very top bar, you just enter your desired name (without .com at the end)
3. Scroll down to see which domain names and social media usernames are available. If the box changes from bright green to dark blue, the name is NOT available for that particular social media platform. If it remains green, the name is available. If it turns yellow, that means your name is too long for that particular platform.
Easy peasy!
STEP THREE | CHOOSING A HOST + DOMAIN & SETTING UP YOUR BLOG
Okay, now onto the more technical side of things. Lets actually get your blog set up!
Before we jump into the steps for setting up your blog, I wanted to quickly review some terms I will be mentioning. I found these rather confusing in the beginning and I needed some clarification when I was a new blogger, so I will try to be as clear as I can be for you!
So, basically when I talk about a blog host, platform, and domain, the easiest way to think of it is this:
Your Host = A Mall
Your Platform = A Store in Mall 
Your Domain = The Name of Your Store in the Mall
So, with that being said, I want to talk about why you need to have a self-hosted blog rather than a free blog.
WHY DO I NEED A SELF HOSTED BLOG?
Compared to starting other businesses that can provide you income, blogging is actually very inexpensive to start. For about $5 per month you can set up a professional, self-hosted blog.
There are free platforms out there, such as Blogger, and they are great if you are strictly planning to blog as a hobby – but if you really want to monetize your blog, even down the road, you'll need to have a dedicated blog that is self-hosted. With a self-hosted blog you are able to control all of the content on your blog and you have 100% complete ownership of it.
That's why you need a self-hosted blog with WordPress.org (not wordpress.com – the free platform). When you self-host your blog, you have control of the content and you own your site. You're also able to monetize it – which I know is often the goal for starting a blog!
Also, if going the free route, and using wordpress.com (not to be confused with the paid version – WordPress.org), there will be ads placed on your site that don't even bring you any income personally, and can make your blog look ugly. But if you self-host with WordPress.org and a hosting platform such as SiteGround, you have control over any advertisements that are put on your site, or choose if you even want to use ads at all.
Lastly, and this one is a biggie, on the free wordpress.com platform you cannot customize your site, you can't add plugins to optimize your blog, and your site can be taken down at any time if you violate the Terms of Service.
So yes, personally I believe signing up for a self-host blog with WordPress.org and SiteGround is totally worth the $5-$10 dollars per month because it will give you complete control over your content allowing you to grow your blog into a successful and profitable one!
Not sold on Self Hosting yet? Read this blog for more reasons why Self Hosting is SO important to your blog: 6 Reasons Self-Hosting is a Must Have for Your Blog
WHAT HOSTING SERVICE SHOULD YOU USE?
Now that you know why Self-hosting to so important and why I recommend it, lets talk about the platform I personally use and recommend for your blogs hosting.
Why I use Siteground for my Blog Hosting:
Siteground was not the first hosting service I used. I used Blue Host for almost two years, but as my blog grew, I dealt with CONSTANT downtime again and again. When your site is down, you are potentially losing page views, subscribers, and potentially sales. Not cool! So I did some research and decided to switch to Siteground. I have been SO happy with my decision. They have amazing support, 99.9% Up Time, and are super user-friendly!
The top three reasons I chose Siteground were:
+ The Up Time is Amazing (99.9 % Up Time)
+ Amazing Customer Service
+ Super Fast Website Speed
For more details about the 3 reasons I chose Siteground you can check out my full blog post: The 3 Reasons I Decided to Switch to Siteground
NOW WE ARE READY TO GET SETUP!
So, if you are ready to get started with Siteground today, Follow the information below and we can get your blog up in running in the next 15 minutes!
The very first thing you need to do is Click Here to head over to Siteground & choose your plan!
Also, by using that link you will receive 70% OFF your plan!
If you're a brand new blogger, you could easily go with the StartUp plan. I personally use the GrowBig plan because it allows me to host multiple websites.I currently have two, and plan to probably start one more. So that feature was important to me!
For many beginning bloggers it's hard to decide on a niche. And the GrowBig plan allows you to set up more than one website so you can test different niches as you are starting out. With the GrowBig plan you also get super-duper fast customer service, which as a new blogger can be SUPER helpful. Your blog will also load faster which gives you higher rankings in Google! That can help you majorly when it comes to blog growth! And lastly it has one year of free WildCard SSL which is extremely important for all online businesses because it keeps your website more secure.
For the extra $2 per month, I thought it was worthwhile to go with the GrowBig plan, but it is completely up to you and your needs.
Now you will be asked to pick your domain name and input all of your information. You can decide if you want Domain Privacy and HackAlerting (I recommend it) But it is totally your choice. Simply follow through the steps until you are able to login to your Siteground account.
STEP FOUR | INSTALLING WORDPRESS
Now, like I mentioned earlier, Siteground hosts your website, but WordPress is where you will actually build your website. So this step is pretty important!
Once you login to Siteground simply click the "My Accounts" tab and then click the red button that says "Go to cPanel"
Then scroll down until you see the "WordPress Tools" Section, and click "WordPress Installer".
Hit the blue "install button". You will be brought to a page where you will need to fill in some information.
In case you get stuck this may help:  
Choose Protocol: most likely it is: http://
Choose Domain: The domain name you chose earlier should be in the drop down menu.
In Directory: you can leave this blank.
Site Name: choose a site name, you can change this later.
Site Description: choose a site description, you can always change this later.
**Admin Username: choose a username. You will use this when you login to the backend of your blog (wordpress). Write this down or remember this!
**Admin Password: choose a password. You will use this when you login to the backend of your blog. Write this down or remember this!  
Admin Email: provide your email of choice.
Choose a Theme to Install: you can install a theme from here or you can install a theme when you log into WordPress in the next step. You can start off with a free theme and upgrade later if you want a paid theme. Your theme can always be changed!
Click Install
STEP FIVE | LOGGING INTO YOUR NEW BLOG
Yay! Time to login and explore your blog!
simply head to www.yourdomainname.com/wp-admin and login using the user name & password you picked in the previous step.
STEP 6 | CHOOSING A THEME
So now the fun stuff! You will need to pick a theme to suit your blogging needs. So, what exactly is a "theme" you may be thinking? Basically, your theme is the template you'll use to design your website. Finding a good theme that is easy to customize will make the design process a million times easier for you. However, there are literally thousands of themes to choose from, and it took a lot of trial and error until I found a theme that I absolutely love.
You can, of course, stick with a free theme, but if I was you, I would browse around and find one that suits your needs and the vision you have for your blog. It will make your life so much easier.
Here are some things you will want to consider when choosing a theme:
Are you tech savvy? If no, them you will want an easy to customize theme that doesn't involve any kind of coding.
Will you use a side bar? If yes, make sure you look for that feature when deciding on a theme
What about your navigation menus? Pay attention to where the menus are in the themes you are considering, do they suit your needs? Can you customize them?  
Can you edit the colors and fonts to make it unique to your brand and vision? How complicated is that process?
I will let you know what theme I use personally because it is by far the easiest theme I have ever used. I have purchased a few different themes within my 3 years of blogging, as well as used a few free themes, and this one is BY FAR the most versatile and easy to work with.
It is called Tweak Me V2, and it has been my bestie since I installed it on this blog. You can literally customize every aspect of the theme and make it 100% your own.
You can find out more about the Tweak Me theme here!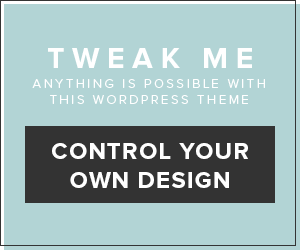 If you do decide to go with the Tweak Me Theme, Once you've downloaded it, here's how to install it on your website:
Step 1. From your WordPress dashboard, click "Appearance" in the left-hand menu.
Step 2. Under Appearance, click "Themes".
Step 3. Press the "Add New Theme" button.
Step 4. Select the file for your theme. When you purchased the theme, it will be delivered to you as a ZIP file. Make sure you do not unzip it. You will need to upload the file as a ZIP file.
Step 5. Once your theme's file has uploaded, hover over it and press "Activate". This will make Tweak Me V2 your new active theme.
YAY! Now your theme is installed and you're ready to start customizing your website!
**Side note: In the beginning, when I was a brand new blogger, designing my blog was very confusing. I did not have an easy to customize theme and found it very hard to make my blog into what I had in my mind. If you purchase the Tweak Me Theme, and you are still feeling this way, please feel free to send me an email with your questions and I will help you in any way that I can!!! You can obviously send me questions no matter what theme you go with, but I may not be as helpful to you if it is not a theme I am familiar with!
STEP 7 | WRITING YOUR FIRST BLOG POST
Okay, so now that you have your design started, you can start getting to work! You want to start writing your first blog posts! In WordPress, on you left hand side, simply hit the "posts" option and then "add new".
Then, start writing! I would aim to have at least 5 solid, content rich posts before officially launching your blog.
For some helpful tips you can check out these posts:
The 8 Things Your Blog Post Should Have Before You Hit Publish
10 Tips For Starting a Successful Blog From Day One
Learn SEO: The Beginners Guide to Making Your Blog Search Engine Optimized
STEP 8 | LAUNCHING YOUR BLOG
Obviously when you feel ready, you will want to officially launch your blog! But leading up to that moment, there are lots of steps you should take to get your blog optimized and ready for your readers!
Lucky for you I created a FREE 6 week plan that takes you through each week step by step to help you build a solid foundation for your blogs success.
NEXT STEPS: HELPFUL RESOURCES
+ The Ultimate New Blogger Checklist: Everything you need to do in the first 6 months after starting your blog.
+ 26 Quick and Easy Ways to Grow Your Blog
+ Grow Your Blog with This Step-by-Step Pinterest Plan
+ The Ultimate Step-by-Step Guide to Start & Grow Your Email List
+ A ConvertKit Tutorial: The Beginners Guide to Email Marketing
+ 7 Things You Need to Do to Increase Your Blog Traffic
STEP 9: MAKING MONEY WITH YOUR BLOG
While I do believe focusing on writing high quality content and growing your audience should be your main priority in the first few months, there are certain things you can do to monetize your blog from the beginning.
I recently posted my first Blog Income Report which goes through the details of how I was able to make over $500 in the first two months after launching a brand new blog, with less than 100 page views per day.
I created that post to show my readers that it is totally possible to make a blog income with a brand new blog & a small audience!
Now, there are certain tactics that are better than others for earning an income from the beginning. For example, if you plan on launching a course or e-book, building a relationship with your audience and growing your email list should be your first priority. You will want to accomplish those things first before actually trying to launch anything. I would wait until at least 4-6 months before going that route of monetization. BUT, there are other areas that you can do from the very beginning, such as my favorite, affiliate marketing!
Now, I am not saying you will be one of those bloggers who bring in 10k per month in affiliate income in your first few months of starting a blog. BUT, you can 100% set up your blog to make money from the very beginning. There is no reason you can't include affiliate links through out your blog from day one.
Actually I talk all about how I used affiliate marketing to make over $500 with a brand new blog in this new post: Affiliate Marketing: How to Start Making Money With Affiliate Links
Here is my theory, you create an awesome post, there is potential for various affiliate links to be put in that post, but you want to grow you blog audience first before you start using affiliate marketing.
But then, it happens. Your post goes viral. Before you know it you've missed thousands of potential commissions because you waited to use affiliate links.
See my point?
If you partner with affiliates that you love and that are relevant to your niche, why not include them where they are relevant throughout your blog?
Now, there are certain areas of affiliate marketing that may work better by waiting for a larger audience, such as pitching directly to your email list about an affiliate product. Again, creating a relationship and building that trust first will yield better results in the long run.
I also want to point out that success with affiliate marketing is a very strategic process. It really is not as easy as slapping some links in some posts and calling it a day. Don't worry, I thought that in the beginning as well. But then I took the course Making Sense of Affiliate Marketing, and realized I was doing it wrong all along! Michelle, the course creator, earns over $50, 000 in affiliate income from her blog MONTHLY! So, she is obviously doing something right?!
Her course was so beneficial to me, and I made back what I invested in less than a month, so the ROI was clearly great!
If it is something you are interested in, you can find all the details here.
Other related reading:
Make Money Blogging: Learn How I Turned My Blogging Hobby into a Profitable Side Hustle
6 Awesome Ways to Make Money With Your Blog
8 Reasons You Aren't Making Money From Your Blog
Questions? Comments? Need more assistance getting your blog set up? Leave a quick comment below or send me an email! I love hearing from you guys!
[/vc_column_text][/vc_column][/vc_row]